Peegue's Puzzle Page

Welcome to Peegue's Puzzle Page. Logic Puzzles, Mazes, and more... Peegue is always on the look-out for interesting puzzles for you to ponder and solve.

For this edition, Peegue has found two visual puzzles for you:


Visual Puzzle #1

A number of cubes are arranged in piles on a grid of 5 rows and 11 columns. How many cubes were used to build this structure? (cubes cannot "float" in air)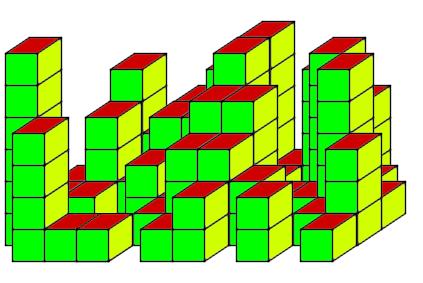 Visual Puzzle #2

The same (!) cube is shown from three different points of view. What colour is the missing side in the fourth point of view?



Both of these puzzles might take some time to work out, so don't give up too easily. Make time on a Sunday morning, grab a cup of tea or coffee, put your thinking cap on, and let the puzzles percolate in your mind.

If you think you have the answer (or you -gulp!- give up), you can send Peegue an e-mail at peegue@midnightsynergy.com. You will receive an automated reply with the link to the solutions. (Make sure that you add Peegue to your address-book if you use a spamfilter, so that the reply doesn't land in your junk folder).

Peegue is also always interested in hearing about new puzzles from all around the world. If you've come across an interesting puzzle that you think Peegue would like to know about, just e-mail us.